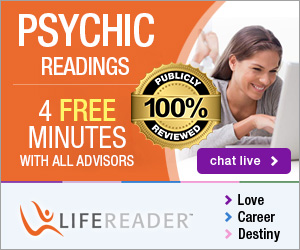 CLICK HERE
Visiting a psychic allows you to isolate what's making you feel nervous or uneasy. Simply by giving a voice to your fears and anxieties, you're setting an intention to resolve your feelings or find a solution to a specific problem. Whether or not you choose to heed the advice of a psychic, they'll still offer a valuable perspective on your question.

LifeReader offers instant online access to carefully screened tarot card readers, psychics, clairvoyants, and astrologists. Established in 2009, they're committed to providing customers with the best online psychic reading experience possible. Achieve harmony with your past, present, and future with the aid of guidance from a LifeReader psychic.

To get started, browse the psychics online and pick one based on their profile. You can get them on the line right away when you open a free account and start exploring your past, present, and future. New customers get 4 minutes of free reading to pose their questions about love, money, career, finance, or whatever else is on their mind. You'll make sure to find the right match for your needs as the first 4 minutes are free with every psychic you try. Get free insight on your love life, financial matters, career path and more through the link below.