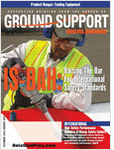 CLICK HERE
Ground Support Worldwide is the only publication serving the entire global ground support market.

Each issue delivers leading ideas regarding management, product and service information for all segments of the ground support community including ground support professionals at commercial passenger and cargo airlines military stations, ground handling firms, FBOs and airports.

Free subscription available in Europe, Asia, Middle East, South America, Central America, Africa, Caribbean, and Asia Pacific.